Donald Trump - IF ONE CAN'T RESPECT BASIC CONSTITUTIONAL RIGHTS TO REFUSE ANY MEDICAL TREATMENT, OR VACCINES, WITH NO PREJUDICE OR DISCRIMINATION, ONE SHOULDN'T HAVE A BUSINESS AT ALL, OR BE PRESIDENT. TRUMP TOWER RESTAURANT IN NEW YORK REFUSING VACCINE-FREE PATRIOTS

1. https://gab.com/Renaudonemilli....on/posts/10759962641
2. https://xephula.com/posts/597528
3. https://magabook.com/posts/172065
4. https://twellit.com/thread/78536
5. https://gettr.com/post/pnhwu34d14
6. https://usa.life/post/3449480_....realdonaldtrump-if-o
7. https://bastyon.com/renaudbe?s....=a1501f308890a6d6150

Let it be known of Donald Trump's hypocrisy, supporting medical privacy law violations in his own businesses, by harassing people for vaccination proof.

TRUMP DISCRIMINATING AGAINST V@CC1NE FREE PATRIOTS:
1. https://www.bitchute.com/video/9lrbQQKz8kH8/
2. https://newtube.app/user/RenaudBe/LmANE6M

#Trump #RealDonaldTrump #VaccinePassport #CovidDiscrimination #ConstitutionalRights #MedicalPrivacyLaws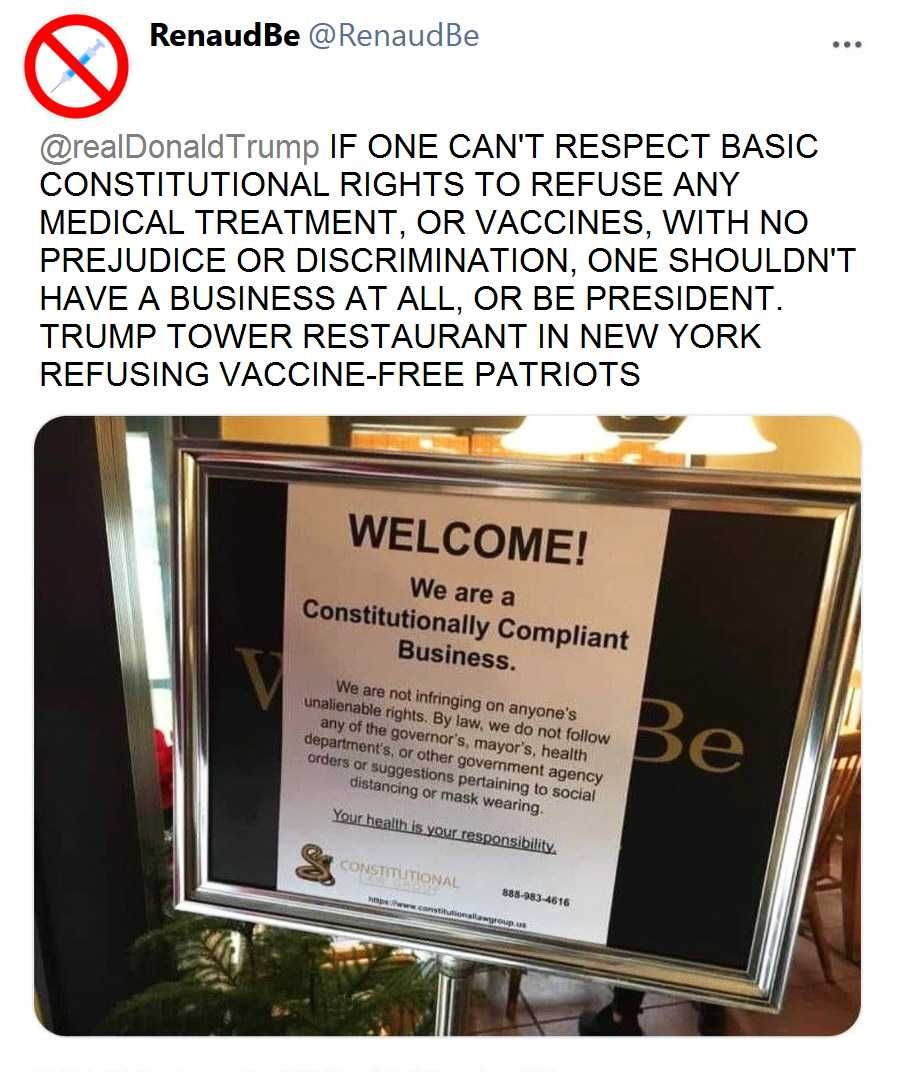 Please log in to like, share and comment!