I joined recently and am exploring. I'm joining a few groups to get acquainted. Here's a bit of background for those of you trying to decide whether to follow me.

I am Reformed. I was raised Presbyterian but went through a three-year doubting period beginning with my senior year of high school. At the end of it I found myself in the Christian Reformed Church a friend had invited me to.

In my junior year at UCLA, CCC and IVCF both nurtured me, but I eventually decided to drop CCC and spend my time with IVCF. I was very active in Bruin Christian Fellowship's activities in my dorm. That's where I met my husband. We've been married for over fifty years now.

Over the years of our marriage we attended a Baptist church, an Evangelical United Brethren Church, a Plymouth Brethren Church, and three different Christian Reformed Churches, according to where we lived. Only one of them, still exists.

We spent the longest time in a small mission church in Los Angeles, the Crenshaw Christian Reformed Church. That is the church we've been most active in, but after nine years we had to move because of my husband's job. In Ventura County there was no CRC so we became Presbyterian again during our 15 years in Thousand Oaks.

In Thousand Oaks we adopted two children. When our 14-year-old son died in an accident at a church outing, we were already committed to moving to San Luis Obispo County where we found our current church, a PCA Presbyterian church in Paso Robles.
The photo shows us with our son at the Crenshaw Christian Reformed Church on a visit just before he died in 1991..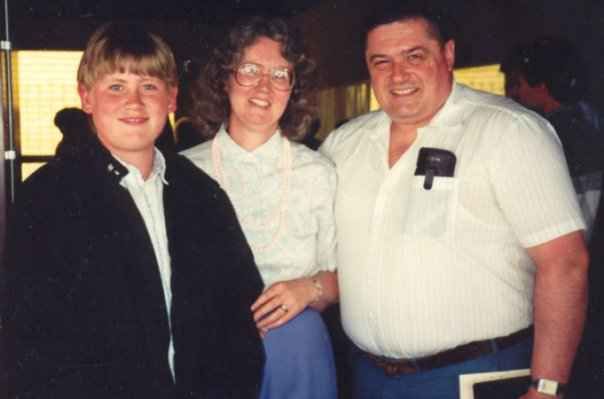 Please log in to like, share and comment!