Algarve is a great place to spend a family weekend soaking up the gentle sun on the beach, and Faro is its capital. Indeed, southern Portugal is an almost continuous strip of beaches stretching from east to west - from Monte Gordo to Lagos, and protected from the northerly winds by mountain ranges. Therefore, many travelers go there exclusively to swim and sunbathe. 
However, the Algarve has another pleasant peculiarity – it offers many places to have fun. Amusement parks, water parks, and other cool relaxing spots are scattered throughout the region, and you can easily get to them if you hire a car. 
Zit Autos Faro offers a wide range of hire cars to suit any taste, which will guarantee a successful trip. The variety of places to have fun makes Faro a very attractive starting point for family vacations.
Aqualand Algarve
Aqualand Algarve offers its visitors a large number of water activities, enough to spend the whole day there. It's located 48 kilometers away from Faro, so it will take you 35 minutes to get there by hire car. 
The most popular ride in the park is "Anaconda" with five pipes winding down into the pool. It's in this park that the highest "Kamikaze" slide is located - visitors slide down from the height of 36 meters in a few seconds. 
The pool is divided into two parts: a quiet part where you can relax and a part with ocean waves where you can dive or jump. The children's area called Rainbow Beach offers the smallest visitors slides too. At this time, parents can watch their children from sun loungers on the nearby lawn. 
You can have a snack in the park: pizza, burgers and pasta - everything that all children love. There's also an ice cream kiosk on site. For those looking to hide in the shade, there's a Portuguese restaurant.
Luso Aventura
Located 33 km away from Faro, this is another great family-friendly place to go with your hire car. Luso Aventura Adventure Park was built in a real forest for those who want to experience new emotions and try their hand at an unusual rope-climbing adventure in the air. 
In this park you can overcome the hiking trails between the trees under the supervision of experienced trainers. All obstacles are built in accordance with European safety standards. You can choose 3 trails that have different levels of difficulty. The simplest one is suitable even for small children starting from 4 years of age. 
Also, on the territory of the park there's a large paintball field with natural obstacles. A visit to Luso Aventura will bring variety to your holidays with children on the Algarve coast. It gives you the chance to take a break from the heat and the ocean, and prove yourself in a real adventure in the forest.
Aquashow Park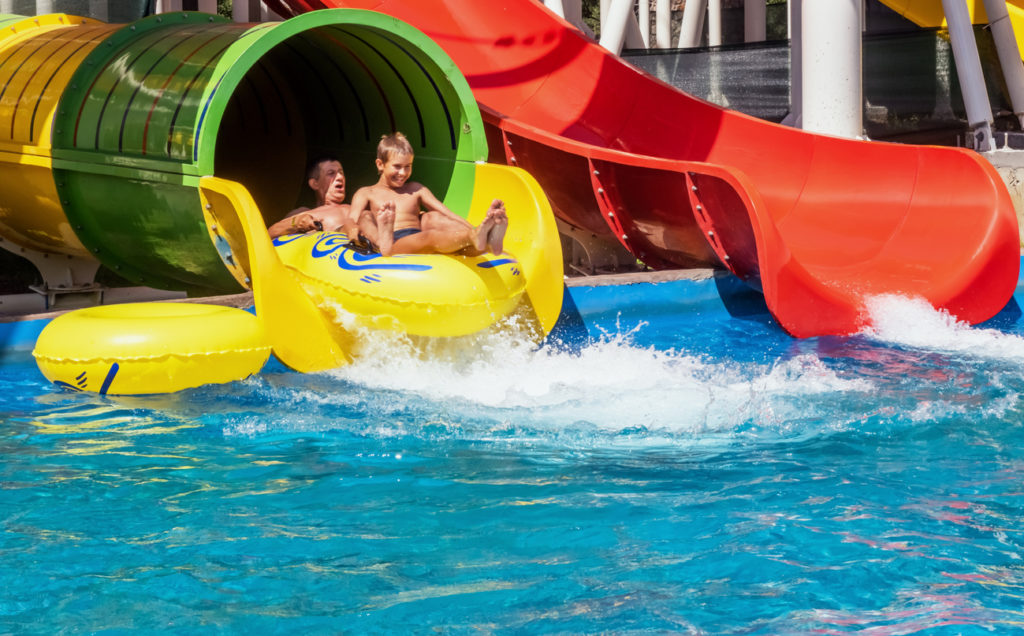 The Aquashow Park is home to the largest wave pool in Portugal, making it fun for both adults and children. If you're tired of the waves, you can relax in the calm water pool or in the Jacuzzi bath. 
The most popular slide in Aquashow is the White Fall. This is a unique slide, which has no analogue in the world - visitors slide on a swimming ring, going down and up in a cone-shaped slide. 
In the children's area called Aqualandia, young visitors won't have time to get bored on a variety of slides, stairs and small forms under the supervision of a large number of lifeguards. 
The park has everything you need for a good rest: changing cabins, a safe, restaurants, ice cream kiosks and a gift shop. The theme park features reptile shows, parrots, a small museum of Portuguese history and all sorts of attractions, including a water roller coaster.
Slide Splash
Slide Splash was opened in 1986 and since then has been constantly updated, holding the first positions in the list of water parks in Europe. This place will be interesting for both adults and children. Adults will appreciate the steep Kamikaze and Black Hole slides. 
You can relax and unwind in the huge pool or Jacuzzi bath. The children's area is designed with a large number of pool areas and slides in the form of animals. 
After enjoying numerous entertainments, you will definitely want to have a bite to eat. Fortunately, there are plenty of restaurants and bars on site. Children especially like the ice cream parlor located under the large awning. 
In a small kiosk you can buy all the necessary things that you might need in the water park, as well as souvenirs. In addition to water activities, the park hosts daily shows of parrots, reptiles and eagles.
Well, visiting water parks and amusement parks located near Faro is a great entertainment option for the whole family. If you are traveling with a hire car, then you have a huge advantage as you decide where to go and how long to spend there. 
Of course, driving your hire car imposes additional responsibilities on you, so always be careful and try to avoid road accidents. However, if an accident happens, just follow the simple instructions and don't worry!