Paul and Silas sang in the midst of despair...and God miraculously moved to set them free. (Acts 16:25-26)

But...Paul would one day display a faith so strong that he would rejoice in persecution...even as he was facing DEATH.

In 2 Timothy 4:6-8...we find Paul awaiting execution...and his faith remains strong:

"For I am already being poured out as a drink offering, and the time of my departure is at hand. I have fought the good fight, I have finished the race, I have kept the faith. Finally, there is laid up for me the crown of righteousness, which the Lord, the righteous Judge, will give to me on that Day, and not to me only but also to all who have loved His appearing."

---There would be no miraculous escape.

---No "positive confession" would change Paul's circumstances.

---Paul would never "plant a seed" into a "ministry" to receive the "double-portion blessing" that would "guarantee success."

---The time had come when no out-of-context manipulation of Scripture would "declare" a "supernatural manifestation" by which Paul would escape death.

You see...the time comes when the measure of faith it takes to be SET FREE is truly DWARFED by the measure of faith it takes to ENDURE the CROSS that will one day loom so large before us.

Many today measure FAITH by the MIRACULOUS...failing to realize that TRUE faith is measured by ENDURANCE through OBEDIENCE...even when that OBEDIENCE leads to DEATH.

The failure of the "positive-only gospel" is its REJECTION of ENDURANCE...as it most often "declares" to the masses that every MOUNTAIN is to be MOVED instead of CLIMBED.

And...the time will come when FAITH will not be MEASURED by the ESCAPES of life...but FAITH will be ESTABLISHED...and "made sight"...in the LOSS of life.

Jesus said we are to "endure" all manner of hardship...even unto DEATH.

How can we know this to be true?

The truth is found by simply asking one vital question:

Are those being MARTYRED today (and even those martyred throughout history) due to their devotion to Jesus Christ (as persecution is spreading like wildfire around the world) to be deemed FAITH-LESS...or FAITH-FULL?

MILLIONS are now dying for their PROFESSION of FAITH...as their REFUSAL to RENOUNCE Jesus becomes a SENTENCE of DEATH.

The most IMPORTANT question is NOT will we remain faithful until God MIRACULOUSLY MOVES to SAVE our lives.

The most IMPORTANT question is this:

Will we remain FAITHFUL even when we know our FAITHFULNESS means DEATH?

The time is coming...and, for some, it is now here...when FAITH will NOT be measured by "prosperity, favor, and blessings"...those things that actually NEVER are shown to be some measure of our faith.

The time is soon to come when our FAITH will be measured by our WILLINGNESS to proclaim CHRIST even as we face the BARREL of a GUN...or the BLADE of a SWORD...or the NOOSE at the end of a ROPE.

When the time comes...will your faith be ROOTED in the Word of God...or...will your faith be MIRED in the "declarations" of false teachers?

Matthew 7:24-27 "Therefore whoever hears these sayings of Mine, and does them, I will liken him to a wise man who built his house on the rock: 25 and the rain descended, the floods came, and the winds blew and beat on that house; and it did not fall, for it was founded on the rock. 26 But everyone who hears these sayings of Mine, and does not do them, will be like a foolish man who built his house on the sand: 27 and the rain descended, the floods came, and the winds blew and beat on that house; and it fell. And great was its fall."

Keep this in mind:

A WEAK faith can EASILY plant ROOTS in the SAND...but it takes a STRONG faith to establish ROOTS on the ROCK.

Philippians 3:7-11 But what things were gain to me, those I counted loss for Christ. 8 Yea doubtless, and I count all things but loss for the excellency of the knowledge of Christ Jesus my Lord: for whom I have suffered the loss of all things, and do count them but dung, that I may win Christ, 9 And be found in him, not having mine own righteousness, which is of the law, but that which is through the faith of Christ, the righteousness which is of God by faith: 10 That I may know him, and the power of his resurrection, and the fellowship of his sufferings, being made conformable unto his death; 11 If by any means I might attain unto the resurrection of the dead.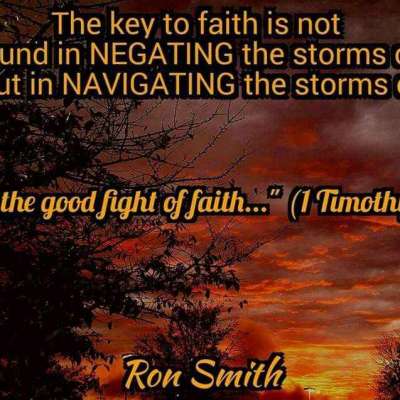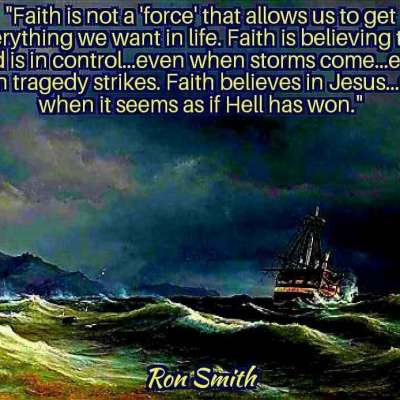 Please log in to like, share and comment!