ABOUT PASTOR CARL GALLUPS
=============================================
For our newest followers on USA.LIFE! Thanks so much for joining me here! I wanted you to know who I am, and what I'm about:

A WRITTEN MESSAGE OF INTRODUCTION to Pastor Carl Gallups

As you see, my account is verified, this is not a fake account. I'm the "real" Pastor Carl G. (I only say this because I am still getting the question, from people who want to connect) So, it's only fair that you know... who I am and what I'm about:

First and foremost - I am an ambassador for Jesus Christ.

Also, I am a former decorated Florida law enforcement officer (sworn officer under three different sheriffs with two different sheriff's offices) who was gloriously saved by the grace of Jesus.

I am unashamed to speak that truth and declare the Word of God and the Name of Jesus. I'm not obnoxious about it, nor do I pressure or manipulate people to "believe" as I do. I am just passionate about my relationship with the Lord and love to speak about the things of God with anyone who truly wants to delve into the contextual truth of God's Word.

Second, I'm an INVOLVED pastor. Not only in direct kingdom work, ministries and international missions endeavors - but also in the political environment of our own times (like Jesus, Paul, Peter, John, Daniel, Ezekiel, Isaiah ... oh well, you get the point). I do not apologize for it. I believe a Christian is sorely missing a huge part of their purpose in life, especially if they completely check out of the process of influencing their surrounding culture in every potential way that they can. We are to be the salt and light in the midst of the world.

A lost world will act like a lost world - but God's people are called by Jesus himself to be the salt and light to a dark and rotting world. Shame on us, if we don't engage the culture with truth, love, the Gospel, and direct intervention when possible. I opened President Trump's very first national rally in Pensacola, FL in March 2016. I went all over Christian TV and begged God's people to vote for him over Hillary. I was reported about on Fox News Business Report for doing so (in a positive way, believe it or not). I do not think Donald Trump was the savior of America or an angel from Heaven - but I do believe that God powerfully used him - for many things. I'll talk more about that on this channel in future posts - some of it may surprise you.

My worldview and values are anchored in the Word of God. They are not determined by political preferences or by following personality cults. If I don't agree with Person A or Politician A because of a certain thing - then I don't agree with Person B or Politican B who does the same thing. Unlike a liberal, I don't speak out of both sides of my mouth.

Third - while admitting that America, like any other nation of the world, has a lot to be ashamed of from its past - and even (especially) in its current day - I am UNASHAMED of our biblical foundation as a nation and the prosperity, freedom, and power that the Lord of Heaven has poured out upon us. We will soon lose it all if the church keeps "losing its saltiness." I am working hard to do my little part in preserving our constitutional republic for our children and grandchildren and for the Gospel's sake. I am not ashamed to salute our flag, stand for the National Anthem, and shed a tear when I do either of them. BUT - I kneel for no one - except Jesus Christ.

Fourth - I am prolife - radical prolife. I'll care about turtle eggs and eagle's nests when our SCOTUS and US Government cares about life in the human womb. There's no comparison to a human baby and a turtle egg, unless one has been given over to a depraved mind.

I am Pro-constitution (1st and 2nd amendments are especially dear to me.) I am also Pro-one man/one woman marriage. Pro-female and male gender only. Pro womanhood, manhood, and childhood. Pro family, home, marriage and community.

I legally carry a concealed firearm almost everywhere I go - even in the pulpit. Not ashamed of it. Not going to apologize for it. If someon has a problem with this concept, I would encourage them to read Nehemiah. The people of God "carried" WHILE they were doing the Lord's work. In fact, it was required that they do so! I don't judge anyone who doesn't carry. Just don't tell me that "I shouldn't." (I'll love you anyway, even if you do!).

Fifth - I am not a racist by any definition. My entire life bears this out. You'll not find a single verifiable instance of pure racism in my life - and I've led a very public life for over 40 years.

In fact, while a FL lawman, I was awarded a commendation of valor from the FL NAACP for saving the lives of many black residents during an apartment fire in a government housing complex. The NAACP officials said they "couldn't believe" that a white officer would have risked his life for the black people of that housing project. I went in the burning building, on my first day back from being out two weeks with a bad case of pneumonia. So...the race card just doesn't work on me.

I firmly believe that ALL LIVES truly do MATTER, above and beyond ANY single racial group. This truth is the central message of the entire Bible and Gospel declaration! However, I DO NOT support BLM.inc. They promote a communist, racist, pro-radical-gay and anti-America agenda. They say it on their website. I will never support them or their anti-Christ cause.

Nor am I a "homophobe." People who are very dear to me (in my own family, connected to our church family, and friends in the community around me) are "homosexual." I love them, and I am immensely decent to them, but I do not support the homosexual lifestyle, and especially the radical church-hating and marriage hating agenda.

I care about them enough to lovingly and thoroughly answer their questions about what the word of God really says about the issue. I can separate the one who is in sin from the sin itself, and still love them dearly. I am smart enough, and spirit-filled enough, to do that. I make no apologies for my stance in this area either.

Sixth - WE DID NOT SHUT DOWN OUR CHURCH during Covid. Not a single Lord's Day! Almost EVERY church of EVERY denomination around us shut down. We took tremendous heat and ridicule for it. Especially on social media. (Little did these people know that they were fulfilling a last-days prophecy from Jesus himself - "Brother and sister will turn against brother and sister. They will hand you over to the authorities". But, we took thoughtful medical and procedural precautions, giving careful and judicious instruction to our congregation and their families. We paid special attention to the protection of the vulnerable among us, and in our families. We never "required" masks or "social distancing." Nor did we pressure or ridicule anyone who did not come to the services. Same goes for anyone who did wear a mask, etc.

We treat adults like adults and not "wards" of the "church." We are not a cult. We are a spirit-filled, Jesus exalting, Word of God preaching church. We held biblical solemn assembly worship services wherein we prayed and read scripture over our church, agreeing together to give Jesus the glory for keeping us safe and healthy as a congregation during the height of the global panic. Just as the early church did for the last 2,000 years - that is, until 2020.

We had many hundreds in attendance every single Lord's Day. For the entire COVID panic-demic we worshipped and live-streamed, and did hands-on missions and ministry activities all over the Gulf Coast area - in a five state region. What have been the results? Perfectly healthy! NO ONE who was regularly attending our services went to the hospital, were put on a respirator, or died. NO ONE.

Less than 10 actually were diagnosed with COVID from among us (their work required the testing). Of those, only 3 or 4 got sick enough to stay home. They recovered and came back to church when it was safe for them to do so - just like we do during every single flu season and with every other upper respiratory viruses. The rest had no symptoms at all.

We continued to do regional missions among thousands of people (hurricane relief, gospel missions endeavors, etc.) From December 2019 until this very day, I have never been healthier. And neither has our church as a whole. To Jesus Christ be the glory for it all! We prayed and asked - He answered and GAVE! And He continues to do so.

Please forgive me. I didn't mean to be so lengthy. I just wanted to be clear about "who I am." And my sincere attempt to walk in consistent faith and integrity. I hope this helps.

Please understand my heart. I do NOT insist that everyone must think or believe like I do to enjoy MEWE and our relationship together. We all have to live here on this planet, and on this internet, together - for a short while anyway.

I'm willing to enjoy that time with you, if you are.

God bless.
Thanks for letting me share all of this with you.....

Romans 12:17-19
…17 Do not repay anyone evil for evil. Carefully consider what is right in the eyes of everybody. 18 If it is possible on your part, live at peace with everyone. 19 Do not avenge yourselves, beloved, but leave room for God's wrath. For it is written: "Vengeance is Mine; I will repay, says the Lord."…

Pastor Carl Gallups
www.carlgallups.com
Sermon Playlist - https://www.youtube.com/watch?....v=F3tcN5ol1iQ&li
Rumble: https://rumble.com/carlgallups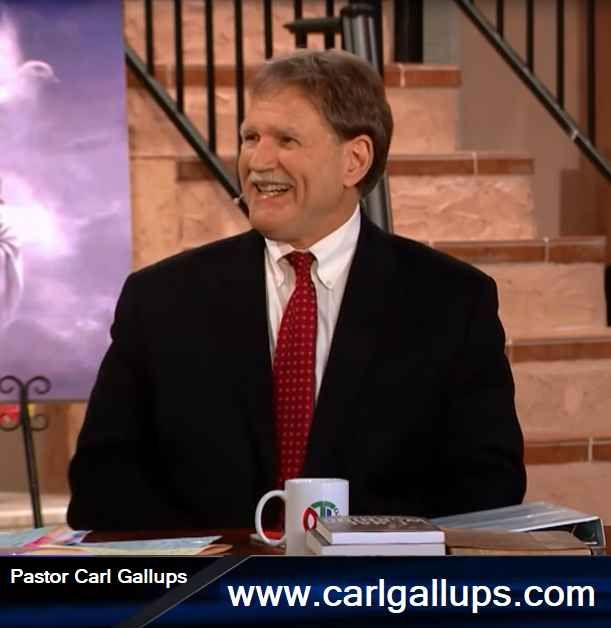 Please log in to like, share and comment!