Sermon on the Mount
For the last few days I have been posting questions about "the beatitudes." For the next few weeks I plan to be posting questions about the rest of "The Sermon on the Mount." However, I am on jury duty all month so it might not be daily.

The Beginning of His Scripture (Old Testament) Based Sermon

My thoughts on the Beatitudes as a whole: Jesus' amazing Sermon on the Mount begins with these eight statements which must have surprised and astounded His listeners because they were so familiar, and because they were so unfamiliar. They are clearly quotes and allusions to well known Old Testament scriptures familiar to His listeners, but the truths embodied in these statements were not taught by the religious leaders of the day. These speak of grace and life. The Jewish religious leaders taught legalism and death. The "blessed" in their false doctrine were those who were healthy and wealthy. That mourning, poor, hungry people could be blessed was an unfamiliar teaching to His listeners. Their idea was that if you suffered in this life you deserved it. They did not understand God's grace at all.

These are the seasons of our Christian life. Lost and destitute in spirit we crawl to the foot of the cross, mourning because of our sin and filthiness. He comforts us there. We must struggle to humbly, meekly, and gently surrender our pride and arrogance to Him. The new heart/ new man God puts in us when we are saved, hungers and thirsts after righteousness. It is a desire only He can fulfill. God has mercy on us and cleanses us of our sin. He makes us pure, by placing His pure heart within us. Grateful, we take the message to others, becoming peacemakers between them and God. If we are effective at this, Satan will send his followers to persecute us. But the persecution is a badge of God's favor because it shows we are living for Him in a world that hates Him. These are the signposts along the path on which the Christian walks from being destitute of spirit to the front lines of spiritual warfare.

For further thought: How far along the road are you? How do you know?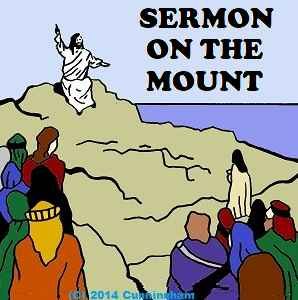 Please log in to like, share and comment!