Removing Barriers to Healing

Often, issues within the hearts and lives of God's people act as barriers to healing.

Seven common such barriers are:
(1) Ignorance of God's Word
Isaiah 5:13 (KJV) Therefore my people are gone
into captivity, because they have no knowledge:
and their honourable men are famished, and their
multitude dried up with thirst.;
Hosea 4:6 (KJV) My people are destroyed for lack
of knowledge: because thou hast rejected
knowledge, I will also reject thee, that thou shalt be
no priest to me: seeing thou hast forgotten the law
of thy God, I will also forget thy children.;
(2) Unbelief
Hebrews 3:12-13 (KJV) Take heed, brethren, lest
there be in any of you an evil heart of unbelief, in
departing from the living God. But exhort one
another daily, while it is called Today; lest any of
you be hardened through the deceitfulness of sin.;
(3) Unconfessed Sin
Proverbs 28:13 (KJV) He that covereth his sins
shall not prosper: but whoso confesseth and
forsaketh them shall have mercy.;
(4) Resentment and Unforgiveness Toward Others
Mark 11:25-26 (KJV) And when ye stand
praying, forgive, if ye have ought against any: that
your Father also which is in heaven may forgive
you your trespasses. But if ye do not forgive,
neither will your Father which is in heaven forgive
your trespasses.;
(5) Occult Involvement
Exodus 23:24-26 (KJV) Thou shalt not bow down to
their gods, nor serve them, nor do after their works:
but thou shalt utterly overthrow them, and quite
break down their images. And ye shall serve the
LORD your God, and he shall bless thy bread, and
thy water; and I will take sickness away from the
midst of thee. There shall nothing cast their young,
nor be barren, in thy land: the number of thy days I
will fulfil.;
(6) Unscriptural Covenants, i.e., Freemasonry
Exodus 23:31-33 (KJV) And I will set thy bounds
from the Red sea even unto the sea of the
Philistines, and from the desert unto the river: for I
will deliver the inhabitants of the land into your
hand; and thou shalt drive them out before thee.
Thou shalt make no covenant with them, nor with
their gods. They shall not dwell in thy land, lest they
make thee sin against me: for if thou serve their
gods, it will surely be a snare unto thee.; and
(7) The Effects of a Curse
See Deuteronomy 28:15–68.

Sometimes sicknesses are caused by, or associated with, the presence of evil spirits. Let's look at just one example from the gospel of Luke.

When the sun was setting, all those who had
any that were sick with various diseases brought
them to Him; and He laid His hands on every
one of them and healed them. And demons [evil
spirits] also came out of many, crying out. (Luke
4:40–41)

When the supernatural power of God comes into operation, evil spirits cannot stand it any longer; they have to come out.

There are different ways in which evil spirits are associated with sickness. There are spirits of infirmity, pain, crippling, and death, to name only four. Jesus encountered a woman who was bent double and could not stand up straight. Rather than treat her condition as a physical ailment, He said that she had been bound by a spirit of infirmity for eighteen years. Then, He loosed her from the spirit, and she immediately straightened up.
Luke 13:11-13 (KJV) And, behold, there was a
woman which had a spirit of infirmity eighteen
years, and was bowed together, and could in no
wise lift up herself. And when Jesus saw her, he
called her to him, and said unto her,
Woman, thou art loosed from thine infirmity. And
he laid his hands on her: and immediately she
was made straight, and glorified God.

Prayer Response:

Thank You, Jesus, for Your work on the cross. I proclaim that when God's supernatural power comes into operation, all barriers to healing fall because Jesus was wounded that I might be healed. Amen.
'Derek Prince'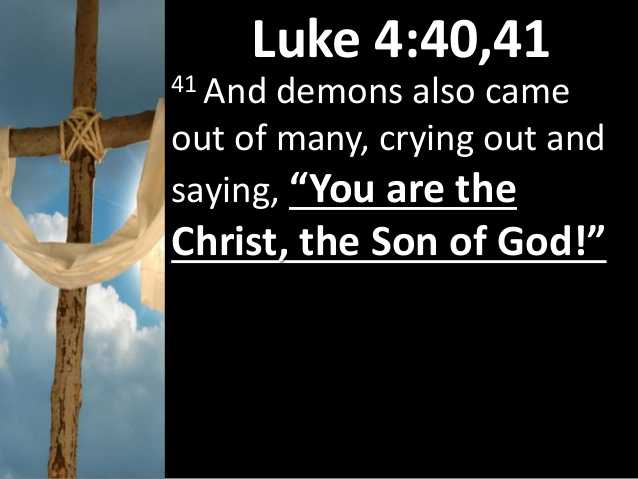 Please log in to like, share and comment!