A driver for a funeral home got pulled over driving his delivery van in an HOV lane, but when protesting to the police officer, he said "But I'm not in violation! There are three people back there!"

While a humorous story, the fact is that whatever 'people' WERE back there are no longer there because their souls have "Departed."

Many people often use the term 'THE DEPARTED' when people die, but the question is, DEPARTED TO WHERE?!?

You see, we are all spirits with souls that are currently (very) temporarily inhabiting a body, but one day your soul will leave your body and depart. When it does, do you know where your soul is going and why it is going there?

This is a question that everyone must answer, and if you don't know the answer, consider this...

You are a spirit, and who you are (your 'soul' will LIVE FOREVER! You have the choice to where it will go! And it's NOT reincarnation (because earth eventually will end) and it's NOT to 'nothingness' because and you cannot 'depart' to someplace that doesn't exist.

Friend, I am not going to fill-in-the-blank the answer for you because deep down you know what I am talking about. The question is, What Will You Do About It? After you depart, where will you go? And why?

Consider carefully, because eternity is too Long to be Wrong.

God Bless Your Day
Jesus Loves You
NotesOnLife.org/archive

#soul #spirit #afterlife #eternity #getnotesonlife #notesonlife #lifenotes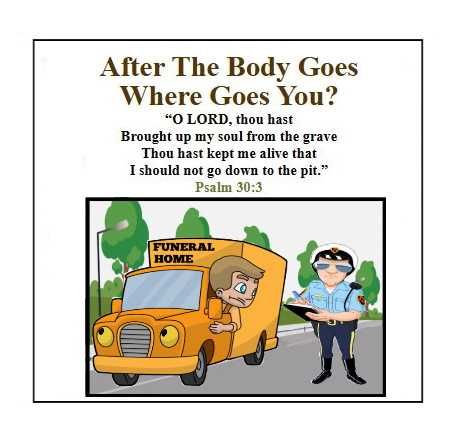 Please log in to like, share and comment!