Now that Congressional candidate Andy Meehan is OFFICIALLY on the ballot for the April 28th primary against California liberal and anti Trumper Lyin Brian Fitzpatrick, Brian has refused to debate Andy about the issues. Bucks County Community College debate coordinator Bill Pezza has stated that Congressman Fitzpatrick has refused to attend the Bucks County Community College Debate traditionally hosted at BCCC Lower Bucks campus. Congressman Fitzpatrick's official refusal ensures cancellation of the 2020 BCCC Debate. Why wont Brian debate Andy you might ask? Well Brian is in trouble. Internal polls and talk around town have shown that MOST Republicans in district Pa-01 are sick and tired of having the most liberal Anti Trump Republican in Congress failing to represent their views, needs and support of our President and his policies in DC. Brian had no problem debating Dean Malik in the last Primary and he had no problem debating Communist Scott Wallace but now all of a sudden Brian is scared to debate Andy Meehan? Maybe Brian is scared to debate Andy because Brian loses on every issue against Andy Meehan. Instead of debating Andy Meehan on the issues I guess Brian is going to use his war chest of 1.5 million dollars from out of state money to continue to besmirch, denigrate and defame him in hopes to defeat him In the April 28th primary. Well Brian, that wont work. Your initial plan with the Bucks County Republican committee to destroy Andy Meehan's reputation backfired and his support and name recognition has grown and is greater than ever and he's officially NOW on the ballot.

What we need from supporters of Andy Meehan is this… We need you to call, email and social media Brian Fitzpatrick and demand that he gives Andy Meehan the opportunity to debate him like he did with every other candidate Brian has faced before. So here's the info folks please inform Brian that you want him to debate Andy. Thank you and God bless. Brian Fitzpatrick's email = https://fitzpatrick.house.gov/contact-me

Brian Fitzpatrick's Dc address and office = Washington, DC Office

1722 Longworth HOB

Washington, DC 20515

Phone: (202) 225-4276

Fax: (202) 225-9511 Brian Fitzpatrick's Langhorne office Langhorne Office

1717 Langhorne Newtown Rd. Suite 225

Langhorne, PA 19047

Phone: (215) 579-8102

Fax: (215) 579-8109 And Brian Fitzpatrick's Facebook account = https://www.facebook.com/RepBrianFitzpatrick/

• CONGRESSMAN BRIAN FITZPATRICK VOTES WITH DEMOCRAT NANCY PELOSI MORE THAN ANY OTHER REPUBLICAN IN CONGRESS. Americans for Democratic Action Voting Guide: October 2018. https://adaction.org/wp-conten....t/uploads/2019/10/20

• CONGRESSMAN BRIAN FITZPATRICK RANKS DEAD LAST IN ENTIRE REPUBLICAN CONGRESS FOR SUPPORT OF PRESIDENT TRUMP AT 36.5%. FiveThirtyEight: Feb 27, 2020. https://projects.fivethirtyeig....ht.com/cong…/brian-f

• CONGRESSMAN BRIAN FITZPATRICK VOTED WITH NANCY PELOSI, ILHAN OMAR, RASHIDA TLAIB, AND ALEXANDRIA OCASIO-CORTEZ TO LABEL TRUMP A "RACIST". CNN: July 16, 2019. https://www.cnn.com/…/trump-ra....cist-comment-vote-ho

• CONGRESSMAN BRIAN FITZPATRICK DENOUNCES DONALD TRUMP, WON'T VOTE FOR TRUMP IN 2016 PRESIDENTIAL ELECTION. Bucks County Courier Times: October 8, 2016. http://www.buckscountycouriert....imes.com/d73c47c9-7a

• CONGRESSMAN BRIAN FITZPATRICK "CAMPAIGNING AS THE ANTI-TRUMP… HE HAS AN F RATING FROM THE NRA. HE DIDN'T VOTE FOR TRUMP IN 2016." Washington Post: October 28, 2018. https://www.washingtonpost.com..../…/53131f60-d21c-11e

FITZWATCH! WALL OF SHAME: https://meehan2020.com/fitzwatch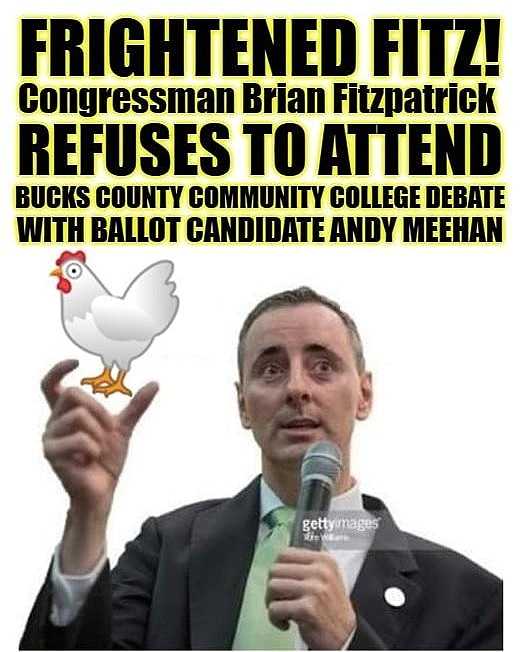 Please log in to like, share and comment!