Fight The Fear #2: Challenged To Stand – 1 Timothy 1:8-18
Part 3 Call To Loyalty 1 Timothy 1:15-18

The Lord give mercy unto the house of Onesiphorus; for he oft refreshed me, and was not ashamed of my chain: But, when he was in Rome, he sought me out very diligently, and found me. The Lord grant unto him that he may find mercy of the Lord in that day: and in how many things he ministered unto me at Ephesus, thou knowest very well.

Ashamed or Unashamed

Paul encourages Timothy by reminding him of those who have been faithful and those who have been fearful. He tells him about Phygellus and Hermogenes, these two men that he names as examples of fear, desertion and failure. They and many others "turned away" from Paul.

But there was one who did not. This was Onesiphorus, his name means "bringing profit." He stood faithful and was not afraid. He scoured the largest city of the Empire, millions of people to find one isolated prisoner named Paul. Timothy knew who he was, perhaps a member of the church at Ephesus, perhaps a member of the church Timothy was now pastoring. In addition he may have given his life is serving the Lord or lost his life before Paul wrote this letter for Paul asks that the Lord give mercy to his house, his family. And that the Lord grant mercy in that day, for he ministered to me in Rome and Ephesus.

What label will we carry into eternity?

Ashamed or Unashamed. Fighting or surrendering? Standing or retreating? Will we be those who encouraged, those who prayed, those who showed our love to our family and our church? Will we be faithful? Overcoming fear by standing on the firm foundation of faith in God our father, Jesus our Savior and the Word of God?
In this day and time, in our own troubles and trials, we must fight the fear, we are God's people and we are equipped by God, through Jesus Christ to be courageous no matter what circumstances this world puts us in. We are called to be unashamed. We are commanded to "hold fast." We are challenged to be faithful examples to those who will remember us after we are gone.

Conclusion: Christianus Sum

We began the sermon with a glimpse into the persecution that begin in 64 AD and continued for 2 centuries under Roman law.
For over 200 years anyone that would follow Christ would have to fully count the cost. A cost that could be their freedom, their jobs or their very life. For 200 years just the profession of being a believer in Jesus was a crime worthy of capital punishment. At the height of one terrible wave of persecution during this time 20,000 Christians were slaughtered by the Roman government in one region. Each person captured was required to identify themselves and then given a chance to recant their faith in only one God and Jesus Christ their only savior. The story is told of one old deacon who was brought before the tribunal and when asked his name he replied "Christianus sum" Latin for "I am a Christian". This was who he was, this was his identity and there was no reason to ask him anything else. He was a Christian and nothing else in all the world mattered. That phrase, "Christianus sum" became the cry of the Lord's own during this terrible time. Whoever said it was not allowed to present a defense or to call in an advocate. It was their identity and it was their judgment and it was their death sentence. "Christianus sum" the men would say and "Christiana sum" the women would reply as they stood before their executioners.

You don't have to speak Latin, but I believe what those early persecuted Christians said should be our response as well. When people ask us who we are. When they ask us why we do what we do. When they ask us what makes us stand in the face of fear and fight may our answer always be "Christianus sum, I am a Christian!"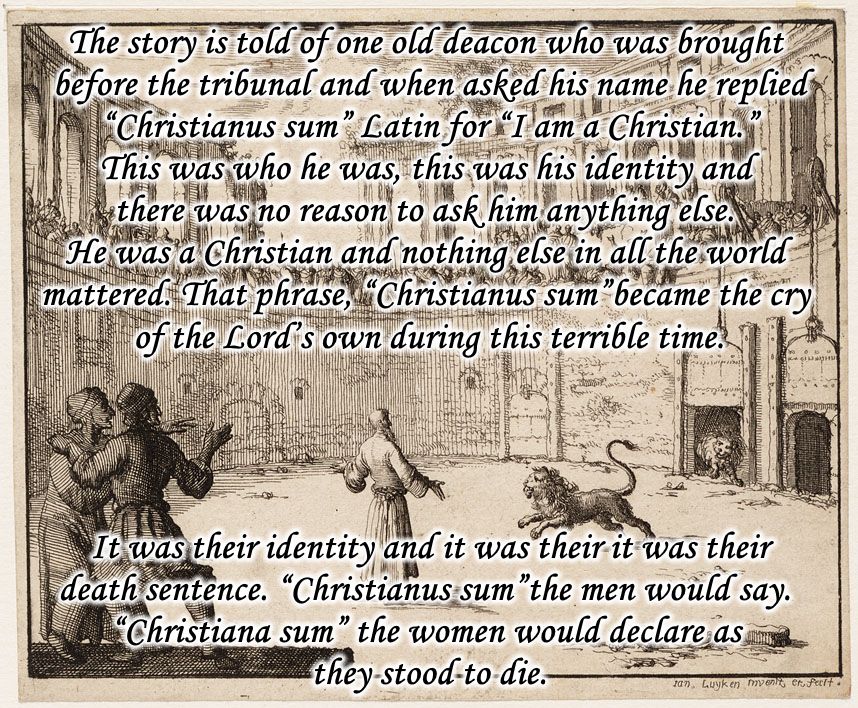 Please log in to like, share and comment!